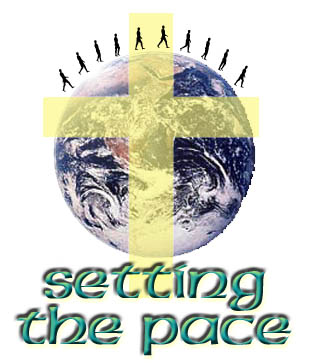 Young Adults Convention
16th - 19th January 1999
thesowers@hotmail.com
Lake View Resort, Ringlet
Cameron Highlands
Pahang
Malaysia


Why should you be here?
Young adulthood is the time in your life that is challenging and exciting, yet difficult and frightening - all at the same time. Our Lord Jesus was a young adult when He carried out His ministry and changed the course of history. Are you at the crossroad of making decisions in your life, concerning money, career, marriage or singlehood? Are you in the dilemma of contemporary young adult concerns and problems, such as anxiety, discouragement, relationship with children and parents, spiritual growth, sex and temptation. If you are, come and join us. Listen to experienced speakers addressing issues in the Church, Society and Country. Come and interact with other young adults from all over Malaysia. The Sowers wish to extend their greetings in Christ to all and we hope to see you in 1999!

Convention Contents


Keynote Addresses & Workshop Topics


Young Adults in the Church today and in the future


Young Adults in the Society today and in the future


Young Adults as a Nation Builder today and in the future


The identity and spirituality of Young Adults today


Young Adults and their personal challenges - Anxiety, Depression, Disappointments...


Young Adults and their interpersonal challenges - Loneliness, Singlehood, Marriage, Friendship, Premarital Dilemma...


Young Adults at their financial and career crossroads

Who are the Speakers
Rev. Canon Ng Moon Hing is the vicar of St. Peter's Church. He graduated from Monash University, Australia in Civil Engineering in 1978 and started his ministry for the Lord in 1985 after his four years in STM (Seminari Theoloji Malaysia). He is the pioneer and coordinator of the Anglican Village Ministry which was established in 1993 and is very much into church planting and mission.
Mr. John Ambrose is a Senior Consultant and Trainer for executives and managers of big firms and corporations. He is also a devoted Christian and conducts training in management and leadership courses for Pastors and Church Leaders of all denominations.

The Young Adults Convention 1999 is organised by The Sowers of St. Peter's Church Ipoh.
Who are The Sowers...?
The Sowers is a mission group consisting of dedicated young adults from St. Peter's Church, Ipoh. This group of people are at the age of 20 and onwards with a vision for mission to expand the Kingdom of God. The Sowers was established in June 1998 and their debut was a mission trip to St. Barnabas Church, Klang in September 1998.

Our Vision
- To be the salt and light of the world, evangelising at all times.
- To train up leaders among the young adults.
- Discover and develop the talents and gifts of individuals for the glory of God.
- Care and concern for all and to love one another with the love of God.


INTERESTED?
Registration Fee RM125 pax inclusive of Registration Kit, Souvenir Program, T-shirt, Name Tag. Registration fee will be RM140 for enrolment after January 1, 1999
Download the registration form and make copies if necessary then fill in.
A receipt will be sent back to respective applicants or church or organisation upon confirmation of registration.
Please make cheque payable to "St. Peter's Church, Ipoh"
(please include RM0.50 for a charge of bank commission on outstation cheques)
Send completed forms together with payment to the following address : -

The Sowers
St. Peter's Church Ipoh,
1-A, Fair Park,
31400 Ipoh, Perak.

More

nformation?
For further information please contact :-
Miss Won Puei Kuen
05-547 0394(O)
05-546 5034(H)
or our Church
St Peter's Church Ipoh
Tel/Fax: 05-546 0444
Tel: 05-547 9576
or send us an e-mail at


thesowers@hotmail.com


You are visitor no :